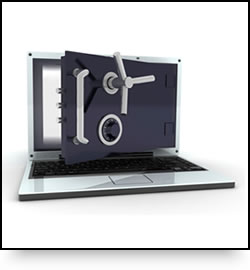 Online50
Certified Secure
Many people just assume that moving data into the 'Cloud' will be safe. Sadly we are often approached by businesses who used a cheap competitor and lost, often years, of financial records. The cost of recapturing everything is often substantial. A few pounds saved ended up costing them thousands.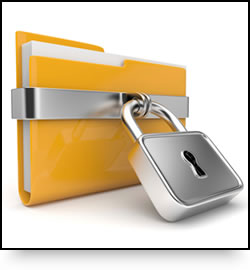 At Online50 we take our responsibilities for the data entrusted to us very seriously. We are accredited to the international standard for Information Security — ISO 27001 — which requires ongoing independent audits to ensure that every aspect of our operations is being run to the highest possible standards. Information security covers the availability, integrity and confidentiality of your data.
Entrusting your data to a company which is not independently audited to the ISO 27001 standard could represent a risk to the survival of your business, not just your data.
The Scope Makes A Difference
If a company offers just software and hosts it on another company's servers, it is possible to only include their own operations (ie: the software) in their ISO 27001 audit. In the same way, some companies claim they are in ISO27001 accredited data centres. The way scope works, this could mean that they have colour coded cables between the different areas.
The Online50 Scope
Because Online50 own and operate everything required to provide our services our scope of operations is broader than any of our competitors and all of it is included in our audit.
Online50 owns the servers, the code and is an official ISP. Every year our entire operation is audited (including our internal administration, office premises and data centre security and even our HR policies and procedures).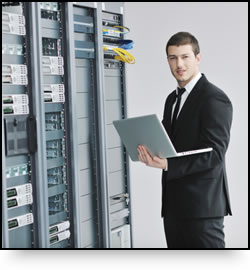 Infrastructure
We provide hosting services that our clients rely on. That means that we need to ensure that we have hosting facilities that will not let our customers down. We have invested heavily in our infrastructure and the design of our systems with the dual aims of performance and reliability.
We have equipment in two separate data centres in London Docklands, each run by a different company. Each location has stringent physical security, redundant power and multiple data connections. We currently connect to the Internet backbone using 4 Tier 1 Internet carriers: Level(3), NTT, Telia and Tiscali. We are also members of the London Internet Exchange (LINX) and peer with other members to exchange data directly with their networks. All of our connections can run at Ethernet speeds. Being at the heart of the UK Internet is important because the most common problem for users of hosted services is delays as data is transferred from the user to the server and back again.
All customer data is held on a high performance fibre channel SAN, and servers are clustered so that no service is provided by just one server. Our systems are closely monitored and upgraded as required to ensure that we continue to deliver the service that our customers have come to expect.
Hosting Highlights
Our infrastructure is:
Located at the heart of the UK Internet
In two physical locations
Connected to multiple Tier 1 Internet backbones
Fully clustered and backed up
128 bit encryption
Data centres fully backed up each night
Snapshots twice daily
Local backup