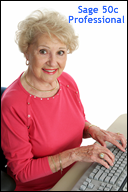 Sage 50c Professional Online Features
Sage 50 Accounts Professional - The Industry Standard
Sage 50 Accounts Professional is the industry standard general purpose bookkeeping software for growing SMEs up to £10million turnover. Professional adds multi currency and sales and purchase order processing.
Sage 50 Accounts Professional Online allows for up to 10 users to work at the same time. In practice, many companies have up to 15 (some even more) different people able to use Sage 50 Accounts Professional Online.
Key Benefits
Almost all reputable bookkeepers and accountants are expert Sage 50 Accounts users. That means less time training and greater efficiency.
Other Versions
Online50 hosts Sage 50c Essentials Online; Sage 50c Standard Online and Sage 50c Professional Online (previously Sage 50 Financial Controller) in all version from Line 50 version 8.1 to the latest. We also provide the exclusive
Sage 50 Accounts Professional Online or Offline - Added Features
Customer Order Management
Allow users to manage stock allocations, preferred customers and keep tighter control of what is to be despatched, invoiced and also returns.
Supplier Order Management
Allows a more profitable relationship with their suppliers and also tighter control over the stock. Businesses can easily identify what is on order, what is due for delivery and needs to be reordered. It automates the process of reconciling invoices against purchase orders.
More Users
As businesses increase the sophistication of their computerisation, they need to process more and more transactions. Sage 50 Accounts allows up to 10 concurrent users – dramatically increasing the scope of their business improvement.
Dealing with Business outside the UK
Foreign trading is becoming increasingly necessary for businesses to expand – the full foreign trading capability of Sage 50 Accounts Professional allows complete control of foreign currency transactions – with improved functionality and easier management of adjustments with improved error corrections.
Advanced Budget Management
Give businesses a much tighter control over their performance and the ability to spot issues more easily allowing them to take the necessary corrective action.
Multi Companies
While all variants of Sage 50 Accounts have multi company capabilities, only Accounts Professional has the Consolidation feature. This is especially useful where businesses have to produce consolidated accounts for all or some of their subsidiaries. With the new advanced budget management feature, the businesses have a much tighter control of their business performance across multiple companies and departments.
Sage 50 Accounts Plus Online or Offline Added Features
Price Management
Features like individual customer price lists removes the need to rely on memory or manual systems and reduces the risk of error.
Batch Processes
And batch conversions of quotes will increase efficiency and flexibility of customer management processes.
Stock Management
Increasing the volume of business can cause problems with increased stock holding – holding back further growth because of the financial impact. The advanced stock management and Bill of Materials capabilities in Accounts Plus can help reduce stock holding, whilst maintaining flow.
Projects/ Jobs
For many businesses that need to manage projects – either for customers or internally – then the Project Costing feature in Accounts Plus is a great benefit. This is a very strong feature for all businesses that need to control budgets and costs of their projects.
Asset Management
Management of assets ensuring accurate postings and up to date accounts. Automate journal processes for depreciation and write off saving time and reducing the risk of error.
Sage 50 Accounts (Plus and Professional) Online or Offline Standard Features
The following are standard features found in the Sage 50 Accounts (Plus and Professional) version whether hosted online by Online50 or on your local network or even on your local machine.
Credit Control
Help manage cash flow in and out of the business.
Multi Companies
Manage the finances of multiple companies from within the Sage 50.
Report Capabilities
Excel integrated reporting allows managers to analyse their business performance in detail. Reports can be produced at the touch of a button.
Frequent Transactions
Automation of regular transactions including recurring invoices, customer receipts & supplier payments.
Refund Management
Record payments made to customers and receipts from suppliers directly onto their accounts, simplifying refund process and reconciliation procedures for VAT and Bank procedures.
Department Management
If departments are a key requirement to the business, they can produce Profit & Loss, Balance sheets per individual department or for a range of departments based on date or accounting period, allowing them to monitor business performance and key trends no matter what they are used for.
Charities
Sage 50 has specific functionality to support the needs of not for profit organisations including Fund Management and gift aid reporting.