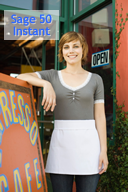 Sage Instant Software Online
With Sage Instant Software Online from Online50, you can have more than one person sharing access to Sage Instant whether they are in the same office or spread across the globe.
Find out more about why Sage Online is better for business.
Sage Instant Accounts makes it easier to keep on top of those essential accounting tasks that keep your business running smoothly and efficiently. You'll have the information you need to keep on track with your money, right at your fingertips.
Manage your money
Keep track of money going in and out of your business. Record till takings and cash sales. See who owes you money and who you owe money to.
Stay in control with Profit & Loss and Balance Sheet reports, at the touch of a button.
Prepare invoices and quotations. You can check the profitability of invoices and quotations before you send them, and apply flexible discounts to help you win business.
Manage Your VAT
Submit VAT returns online using our step-by-step process that transfers information from Sage Instant Accounts directly to HM Revenue & Customs. Almost all VAT registered businesses have to do this from 1 April 2012.
Generate VAT Returns Prepare VAT returns including Flat Rate VAT schemes, EC sales Lists and up to date formats and calculations.
Manage Your Business
Get an instant view of your trading position by glancing at the Dashboard which brings together all the key management information.
Manage your time with the in-built Diary. It integrates with Microsoft® Outlook so you can log tasks and reminders.
Share information electronically with your accountant to speed up the year end process.
It's another way to help you be that little bit more productive.
Sage Instant Online | Powered by Online50
To get the benefit of Sage Instant Software Online you will need to own a Sage Instant license. If you do not already own one, we will provide it at a discount where you plan to use the software online with Online50.
Call our team to day to find out more.