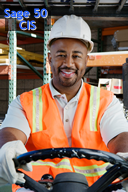 Sage CIS Module Add On Online
Sage 50 Accounts & CIS will help you manage your finances and save you time, reduce your paperwork and help keep you compliant with CIS legislation.
Record the right information
To successfully submit monthly returns and statements customers will need to keep the right records.
With Sage 50 CIS they will be able to record key information about their subcontractors, verify new subcontractor details, as well as all transactions and submissions, ensuring they pay the right amount of tax for the payments they have submitted.
Save time verifying new subcontractors
Sage 50 CIS makes it easy for to verify new subcontractors, simply enter their details and use Sage 50 CIS to email your details direct to HMRC.
Automate monthly returns
With Sage 50 CIS customers can automate their monthly returns and submit them online to HMRC. The software even helps them check their details prior to submission, making sure you get it right each time.
Save time and reduce paperwork producing monthly payment statements
Payment statements detailing the monthly payments and tax deductions for each of their subcontractors are also automated. Once they have completed their monthly return, they simply print out each of their payment statements.
Get up and running quickly and easily
Sage 50 CIS is easy to set up, and works with Sage 50 Accounts. All of their CIS information is stored and accessed centrally within their Sage 50 Accounts software.