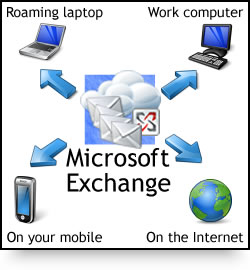 Hosted Microsoft
Exchange 2010
With Exchange Online, users can access their mailboxes from wherever they go, with full support for Outlook, a premium web browser experience, and access from a wide range of mobile phones and tablets.
Where You Need It
Synchronise your Outlook information across all your devices - home computer, office laptop, mobile and tablet.
Unlimited Email Addresses
Pay per user rather than per email address. User 1 could have a personal email and shared access to a number of email addresses for example info@ or sales@. Users can access all essential information in one place.
Shared Team Calendars
Calendar sharing allows users to see free/busy information with colleagues, even if they work at another company.
Integrates With Outlook
Seamless integration with Outlook so your users can enjoy a rich, familiar email experience and offline access.
Get Rid Of Your Exchange Server
Avoid the cost and hassle of maintaining your own Exchange server.
Anti Virus Included
Your Inbox is protected from viruses and other nasties by state of the art Security software.
Communications Backed Up
All your communication is backed up daily to a second site to provide the ultimate in business continuity.
For just £7.50 per user per month, you get:
Unlimited email addresses
Shared email accounts, calendars, contacts
Everything in sync across your various devices
Free anti virus
To get rid of your Exchange Server
Blackberry users please note:
Rather than charge an ongoing premium to operate a Blackberry Server, Blackberry users get Exchange for the same reasonable monthly fee but are required to purchase and install software onto each Blackberry that needs access.