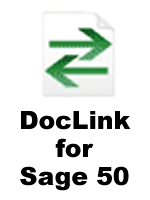 DocLink for Sage 50 Online
With Online50 your source documents can be available electronically alongside your Sage wherever you need to work.
With DocLink for Sage 50 Online
Scan any physical document or
Navigate to any kind of electronic file
Attach it to any journal entry in:
Attached files are stored within the dataset and can be viewed by other DocLink users where ever they are in the globe. Where teams are distributed, information is often not where it is needed. A full backup will ensure all attachments are backed up also.